Tomasz Dąbrowski
The Polish monk Tomasz Dąbrowski, 
one the  closest pupils of Master Sando Kaisen, 
is r
esponsible for the transmission of dharma 
in the Czech Republic.
He was born in 1975 in Krakow, where he spent most of his life. He studied economics and is currently teaching foreign languages.
In his youth he practiced and practiced martial arts (karate), thanks to which he became acquainted with Eastern science and meditation. After the death of his father, he intensely felt the non permanence of life and decided to seek answers to his deepest questions. 
At the beginning of 1996 he met Master Sando Kaisen and became his disciple. A few months later he traveled to a monastery in France for an annual stay. During the time, he was ordained monk under the name of Keiji, the Sanctuary of Peace. After returning to Poland, he founded and led the centers in Warsaw and Poznan. In 2003 he and other close disciples of the master laid the foundation of a monastery in Poland. For the next three years, he was a permanent assistant in this monastery and served as assistant of master (Japanese shuso) and treasurer.
Throughout his practice he has been intensively helping the master in spreading the teaching in Poland, Czech Republic and now also in Russia.
In 2004, the master assigned him to teach in the Czech Republic. He runs centers in Pilsen and Prague.
On May 15, 2012, he received the Dharma Transmission and the Reverend title 
from the Master Sando Kaisen
.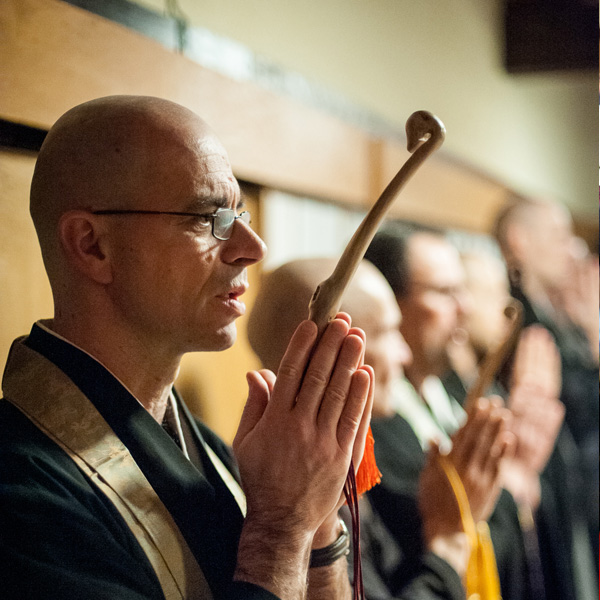 Robert Klimo
The center in Brno is led by Robert Klimo,  a monk of Slovak origin. He was born in 1969 in the small Slovak town called Šurany, but he spent most of his life in Bratislava. He became a mechanical engineer, and he works like one with few break up to now.
In 2000, his long-term interest in Zen brought him to practice in the Bratislava Zen center. In 2005, he was ordained monk under the name of Gyodza, the Homeless Monk. The following year he moved to Brno, where in 2009 he took over the management of the center after its founder, the monk Carolina Fajth.
On January 1, 2014, he received the Dharma Transmission and the Reverend title from the Master Sando Kaisen.
Robert Mirowski
The Polish monk Robert Mirowski is responsible for transmission of the Master's teachings in Ostrava.
Born in 1970 in a small village near Tarnow, he spent most of his life in Krakow. He had been trained as a plumber, and he worked in this profession for the next fifteen years.
In 1992, Zen brought him to meet with Sando Kaisen's disciples, who came to teach zazen meditation among martial arts students at the Jujitsu Academy, which he was visiting at that time.
At that time, he regularly attended a meditation meeting in the Krakow center and devoted himself fully to Zen practice. After a few years, he decided to dedicate his life to transmit the Buddha's sitting position and asked his Master to be ordained a monk. In 2000, he was ordained with Japanese name Maso, Eye of Life.
During his practice, he accomined his the master often on  missionary activities and was one of the students who in 2003 set up the establishment of a Zen monastery in Poland. In this monastery he was a permanent for three years until its demise. In 2006 he moved to Ostrava to lead meditation center, retreats  and spread the teachings of his Master in North Moravia.
On August 30, 2016, he received the Dharma Transmission and the Reverend title 
from the Master Sando Kaisen
.
Stanislava Janíčková
Stanislava was born on August 30, 1980 in Uherský Brod. Currently she lives in Brno, where she moved to study.  She studied English and Czech studies at Masaryk University, Faculty of Arts. Since her graduation she has been working as an English and Czech teacher for foreigners.
She enjoys traveling, dancing, learning foreign languages and arranging flowers (ikebana).
She started with Zen practice in 2007 and in 2013 Master Sandó Kaisen ordained her nun with name "Celle qui veille sur Maya", (The one, who watches over Maya).
She has held several positions since the beginning of practice. She was the main cook (Japanese tenzo) for the whole Czech Republic and France and she is currently the secretary of the Czech Sangha. From 2015 to 2017 she led the centers in Zlín and Uherské Hradiště, which currently do not operate.
She stays in close contact with Master Sandó Kaisen and follows him regularly on retreats in France.
Magdaléna Paulíková
Magdalena Paulíkova comes from Pilsen, where she studied humanities and anthropology and where she works as a social worker in the non-profit sector. After meeting with pure meditation – zazen – in 2005 she felt a strong connection with the teachings leading to liberation. In 2007, she was ordained bodhisattva by Tomasz Dabrowski and later she was ordained by Master Sando Kaisen as a nun (Shi Ho – True Law). She held various positions in the sangha and in the Pilsen center – she has been the main cook (tenzo) of the Czech sangha for six years. She practices in the Pilsen center and stays in regular contact with Master Sando Kaisen.
Zuzana Nádeníková
Zuzana was born on March 1, 1970 in Rokycany. She is married and has two daughters. She has been working faithfully within the family tradition for the Czech railways since she was 19 years old.
Even as a young child, she wondered why she was troubled when life seemed to be  a stretch from birth to death; why it hurts so much, why it can't be taken as a theater. It's like a game that engulfs us at some point, but when drama or romance is over, it's gone.
Zuzana began practicing in October 2007. On October 10, 2010 she received bodhisattva ordination and the name Ji Kei from Master Sando Kaisen. Nun ordination followed six years later and she received the name Go Fu from Master. During the period of practicing, she had a lot of responsibilities: work in the service, cook assistant, organizer, treasurer for the Czech Republic; she is currently the secretary of the center in Pilsen. She continues to practice in Pilsen and commutes to lead Buddha's sessions in Karlovy Vary. She also goes to regular retreates in the Czech Republic and in the France monastery and stays in live contact with the Master.